1867 – First 2 cylinder steam engine powered by coal motorcycle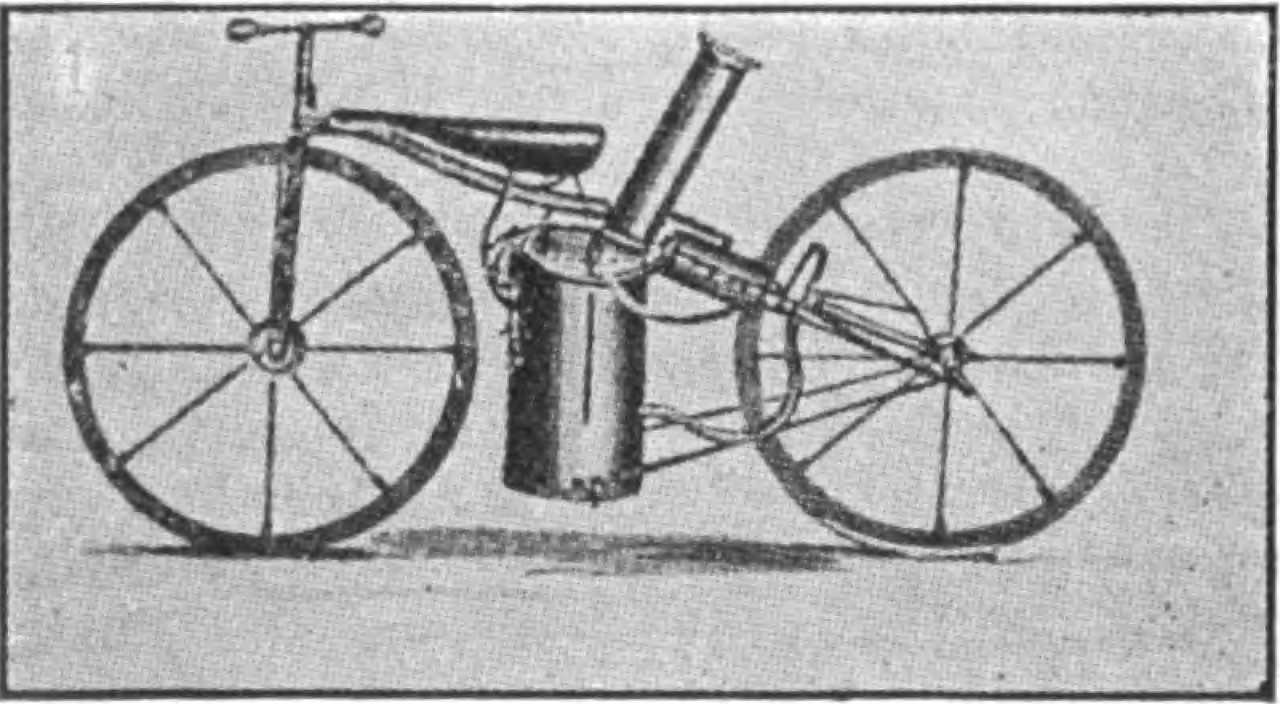 Invented by Sylvester Howard Roper who later died in 1896 while performing a demonstration of one of his steam motorcycles.
1867 – First steam powered motorcycle is invented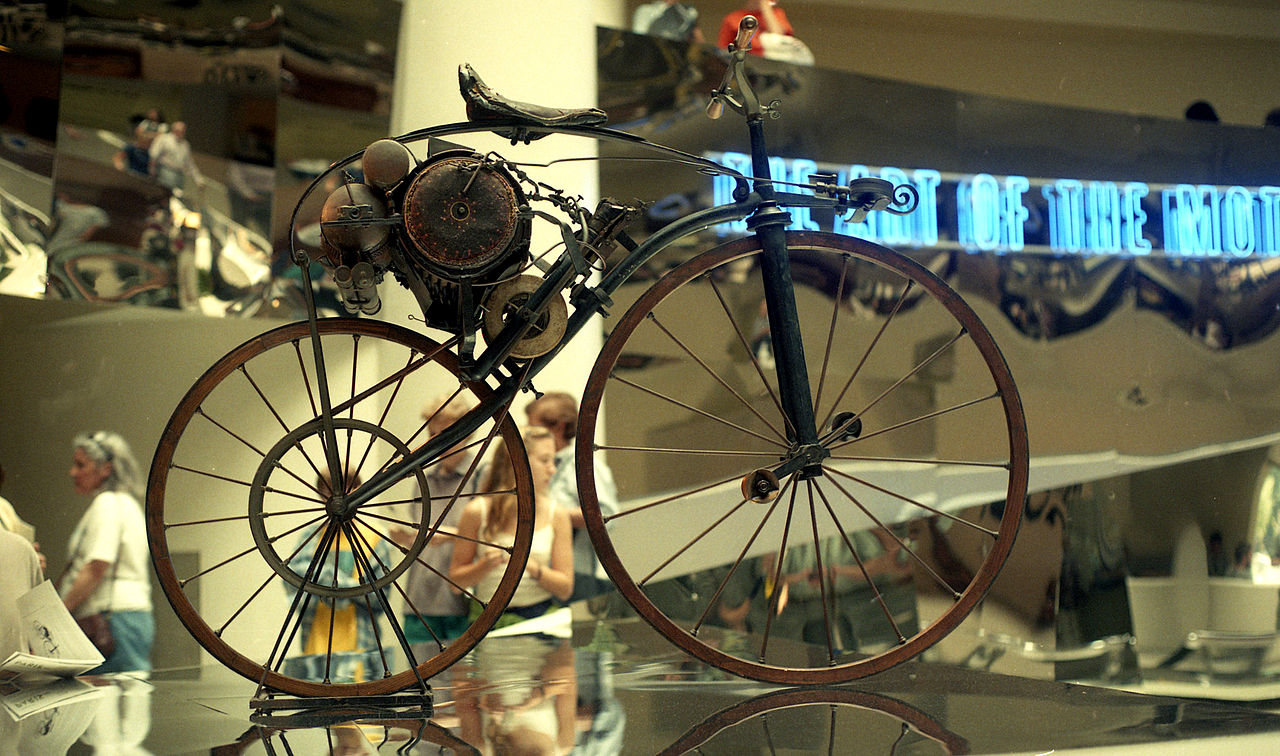 Pierre Michaux's (famous bicycle inventor) son Ernest attached a small steam engine to one of his fathers bicycle designs.
1871 – First steam single cylinder motorcycle invented.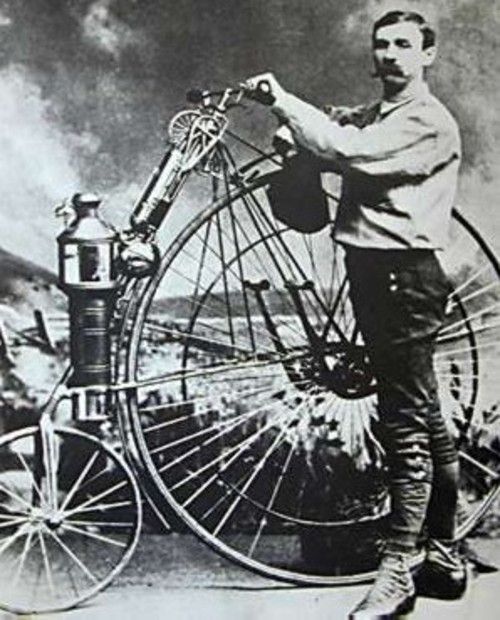 Louis-Guillaume Perreaux developed the steam single cylinder motorcycle with an alcohol burner.
1876 – First 4 stroke piston cycle internal combustion engine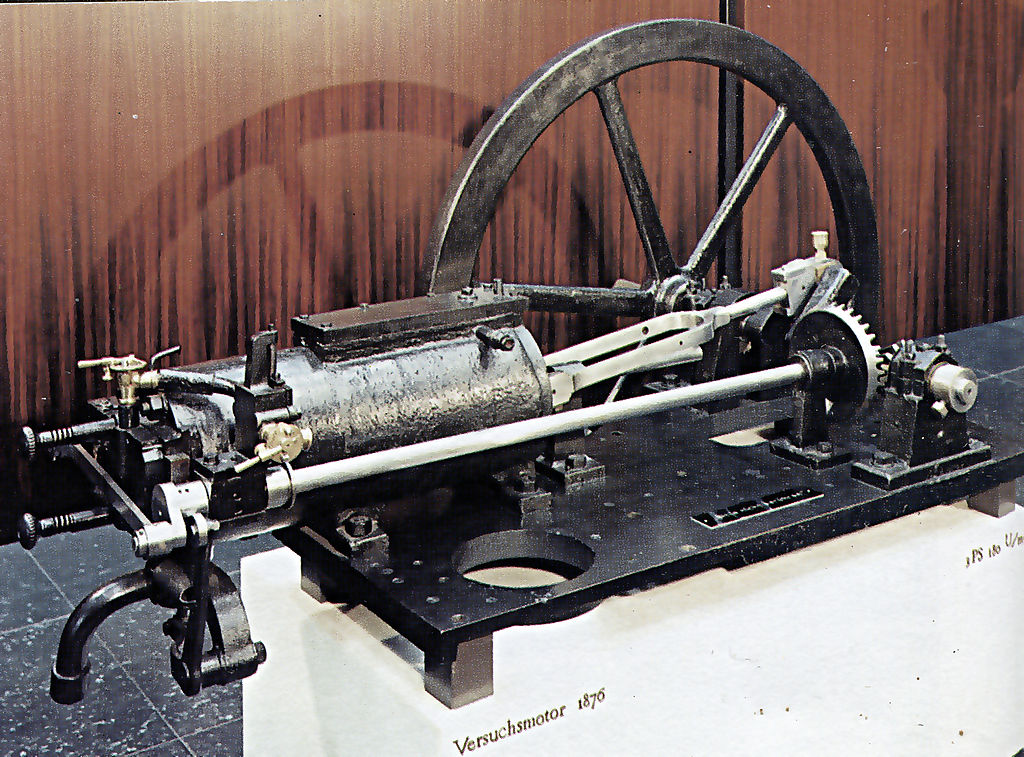 Invented by Nicolaus Otto
1881 – Top speed of 12mph hit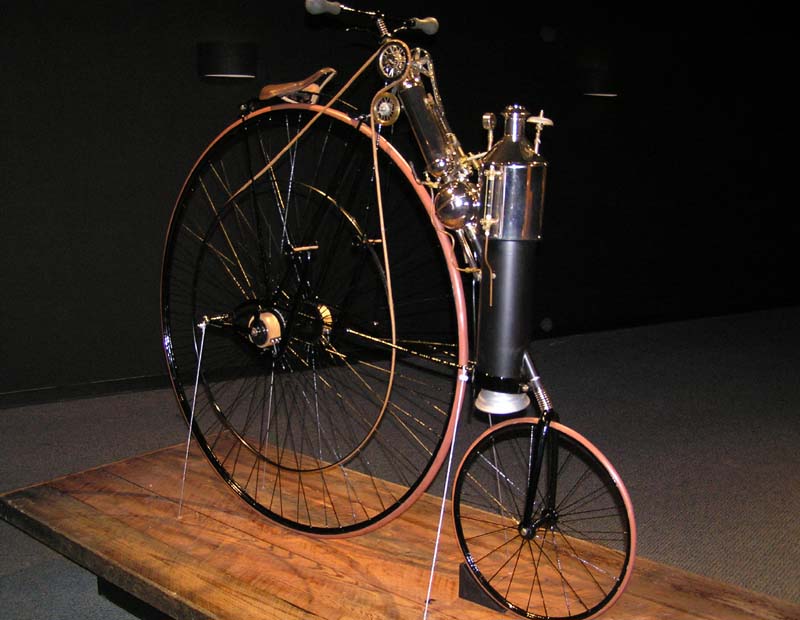 Lucius Copeland strapped a small boiler engine to the rear wheel of a Penny-Farthing enabling him to configure a staggering 12mph.
1885 – First Diesel powered motorcycle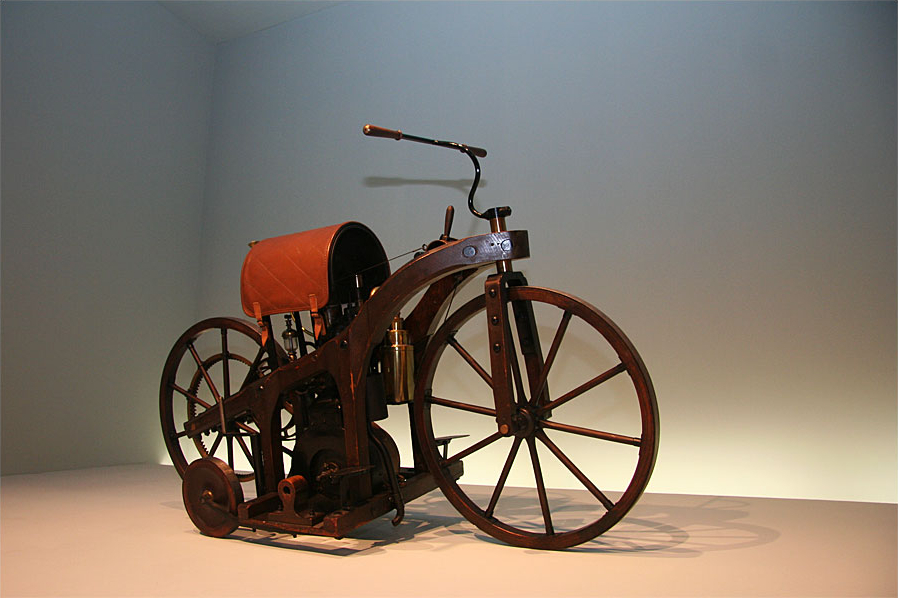 Invented by Gottlieb Daimler and Wilhelm Maybach, the wooden bicycle was equipped with a small 264cc engine and named "Daimler Reitwagen" (Riding wagon). Fun fact: Gottlieb Daimler would later try his hand in car manufacturing. The company he created was called "Daimler Benz", presently known as Mercedes Benz.
1892 – First pneumatic tyres instead of heavy, solid rubber tyres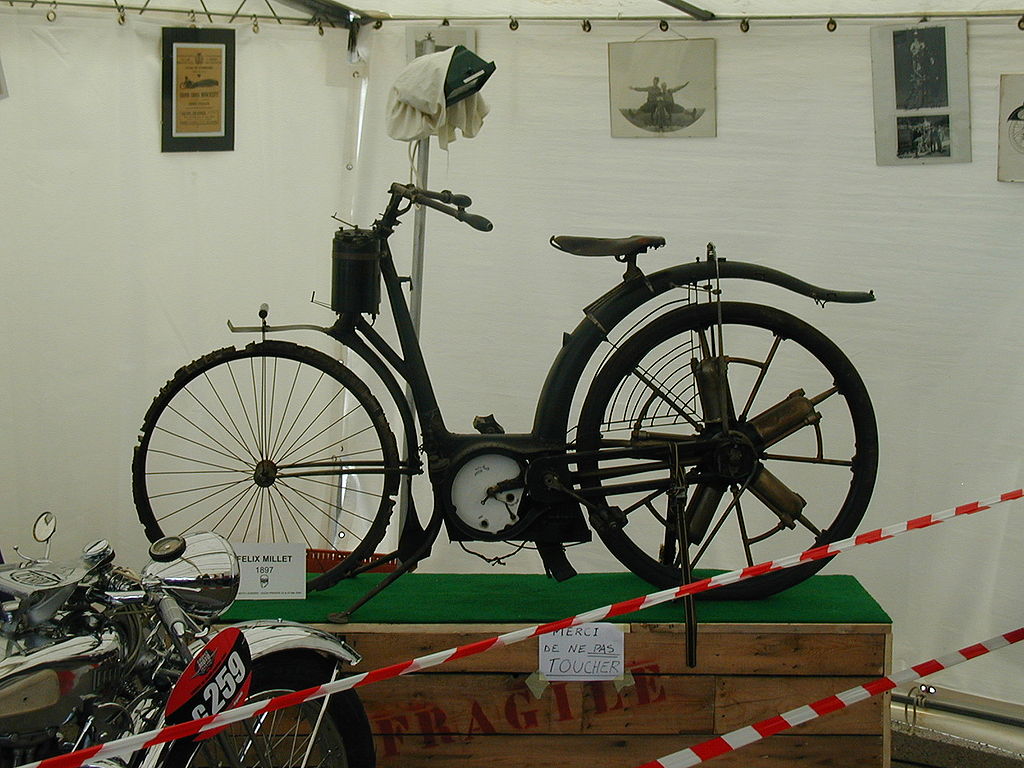 1894 – First series production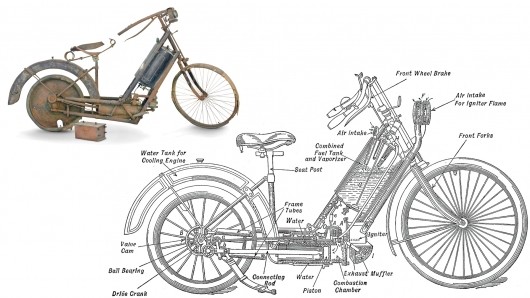 Hildebrand and Wolfmuller created the first series production motor cycle
1895 – DeDion-Buton Engine created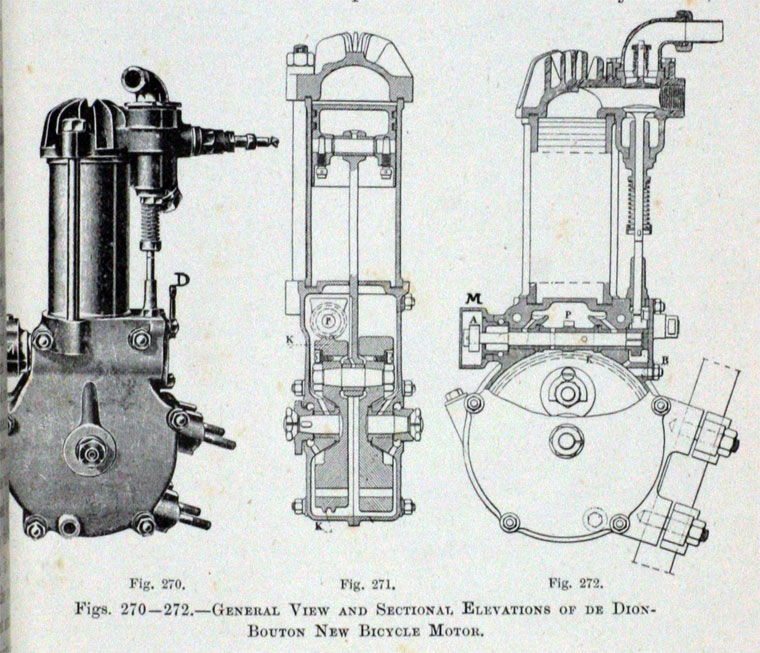 French firm DeDion-Buton created and engine that was easy to produce and allowed mass production of motorcycles, used by many companies including Harley Davidson.
1901 – The first big motorcycle company was born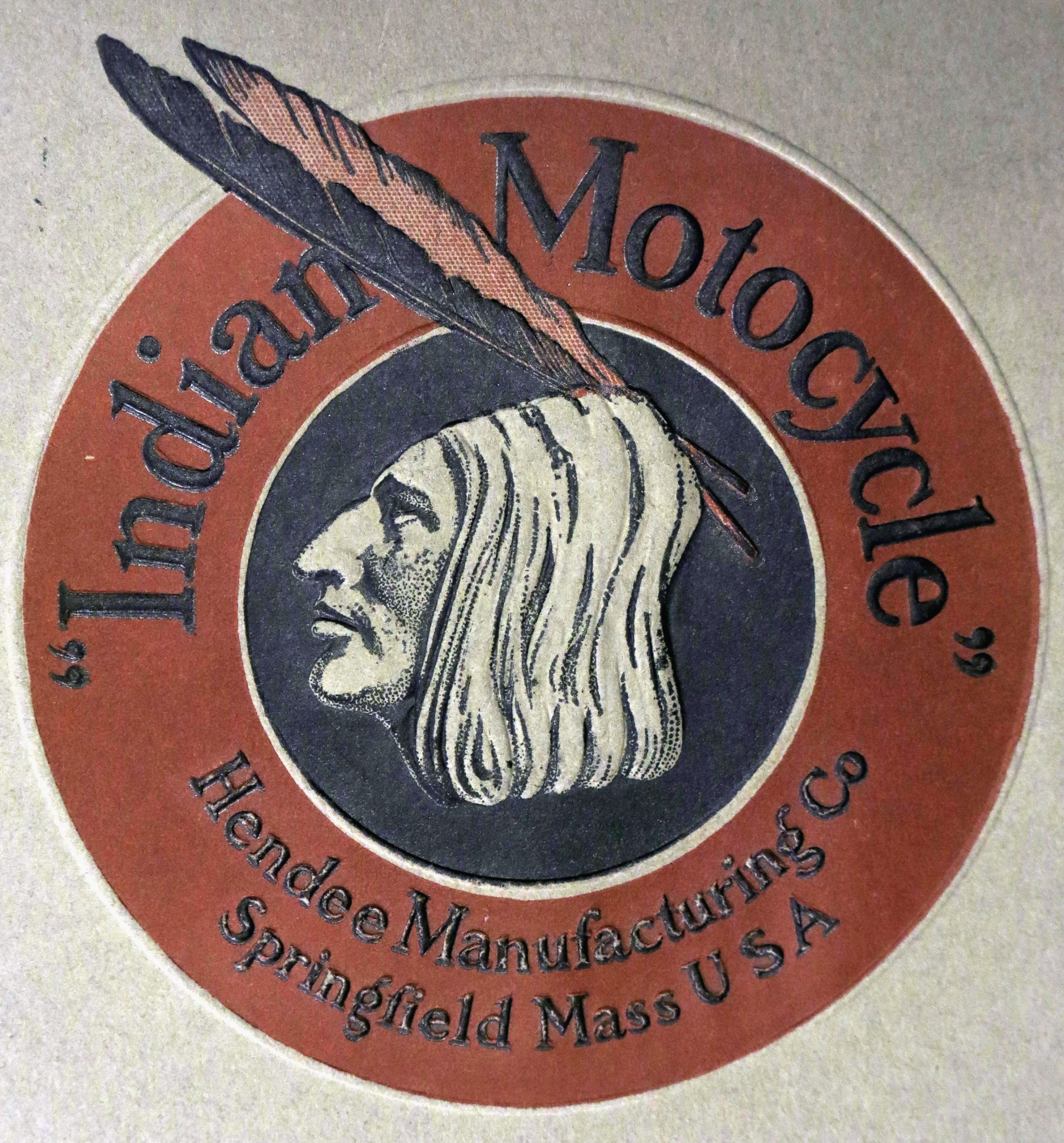 Originally called Indian Hendee Manufacturing Company but later renamed to Indian Motorcycle Manufacturing in 1928.
1902 – Triumph Motorcycles were born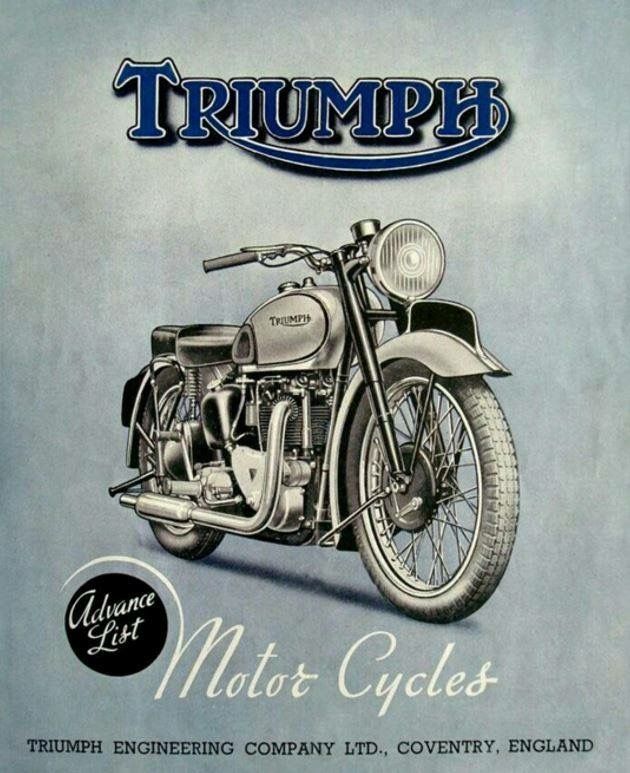 Initially called Bonneville Coventry Ltd.
1903 – Harley Davidson is born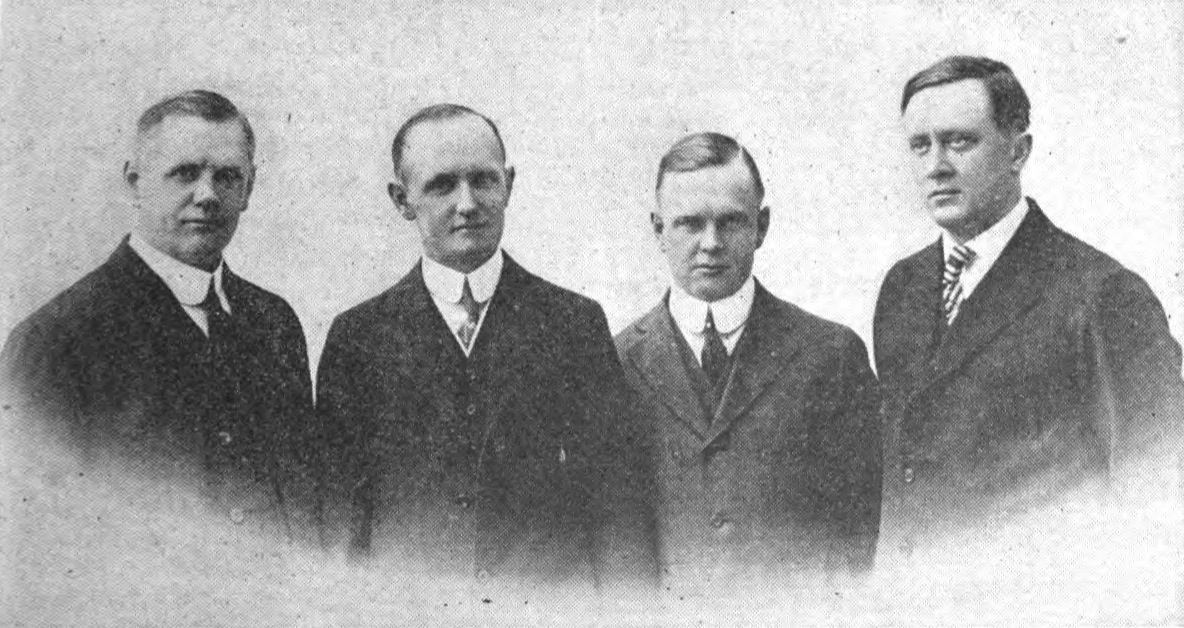 William Harley and the Davidson brothers launched the Harley Davidson Motor Company.
1908 – Pneumatic Suspension Forks invented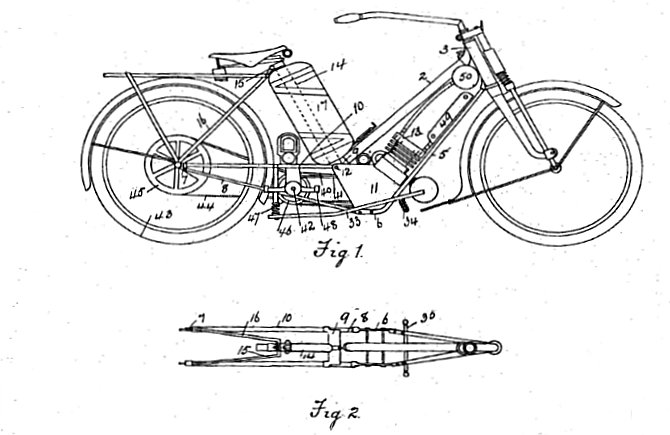 The Scott Motorcycle Company started producing motorcycles with telescopic pneumatic suspension systems
1915 – Effie Hotchkiss inspires women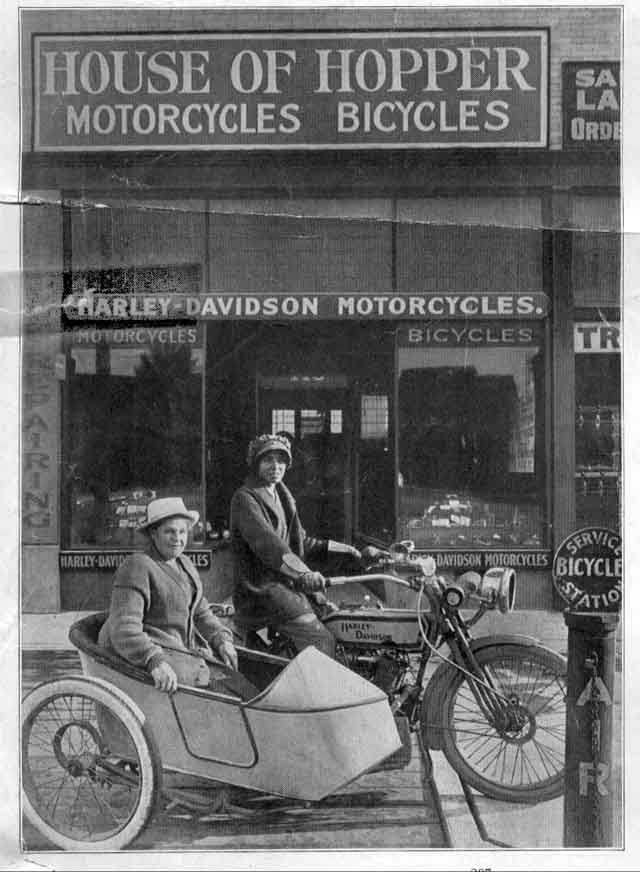 Using money left after her fathers death, Effie bought a Harley Davidson. She rigged the V-Twin with a sidecar for her mother Avis and rode 5000 miles from Brooklyn to San Francisco over the course of 2 months.
1916 – World's rarest motorcycle is invented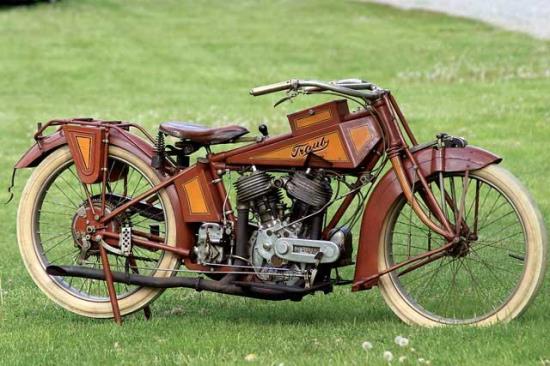 The "Traub" was created by a mysterious inventor. The motorcycle featured unique technology that was strangely advanced for its time. It was the only one made and didn't get discovered for over half a century!
1916 – Augusta and Adeline Van Buren show military women they can ride motorcycle too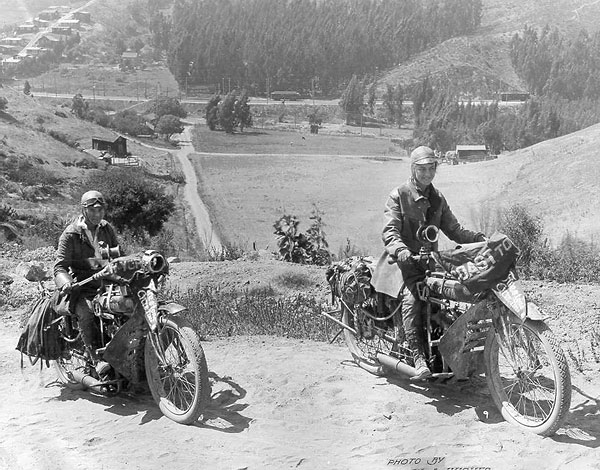 1 year after the U.S. House of representatives rejected a proposal to allow women the right to vote, the 20-something year olds proved womens capability on motorcycles by riding from Brooklyn to Los Angeles in military uniforms. On this journey, they became the first women to conquer "Pikes Peak" in
1923 – BMW Motorrad is born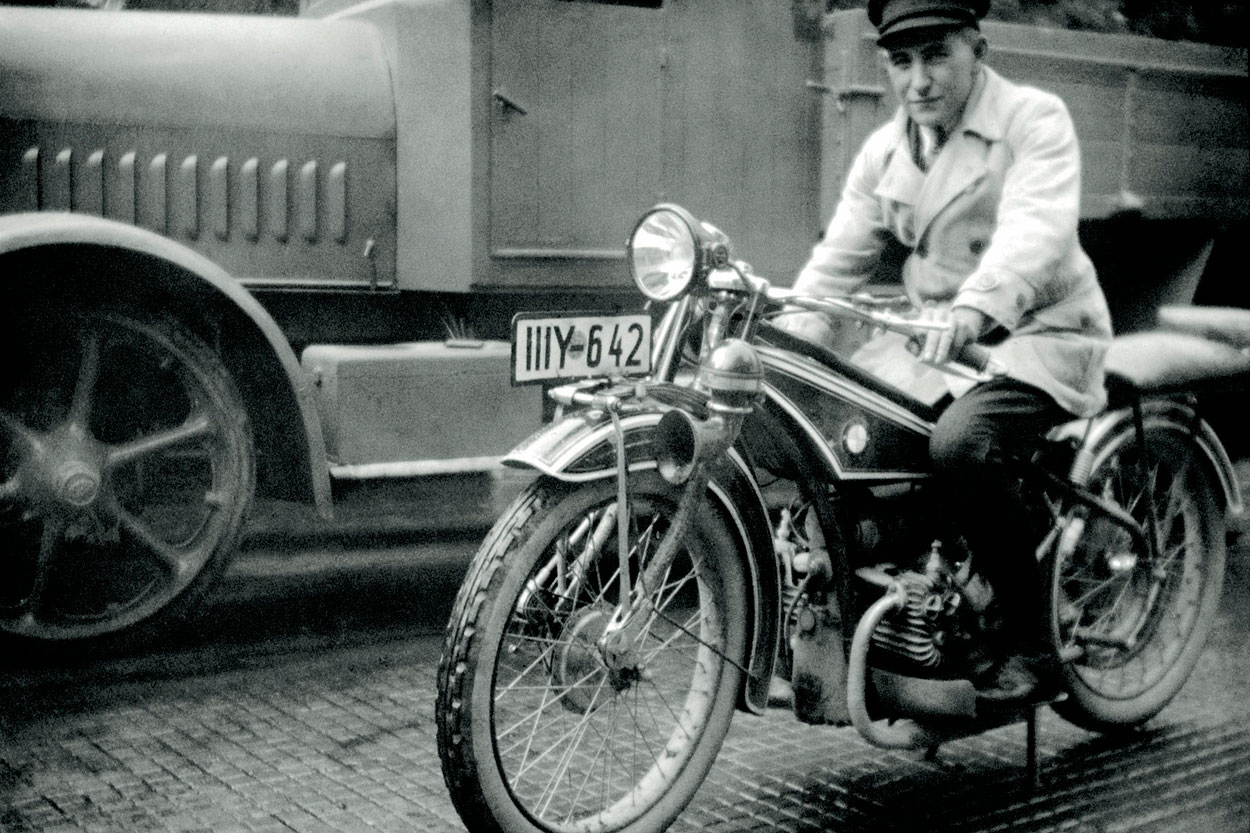 Their incorporation of the Boxer engine starts paving the way for different configurations in later years.
1923 – BWW created a motorcycle using a compact "Boxer" engine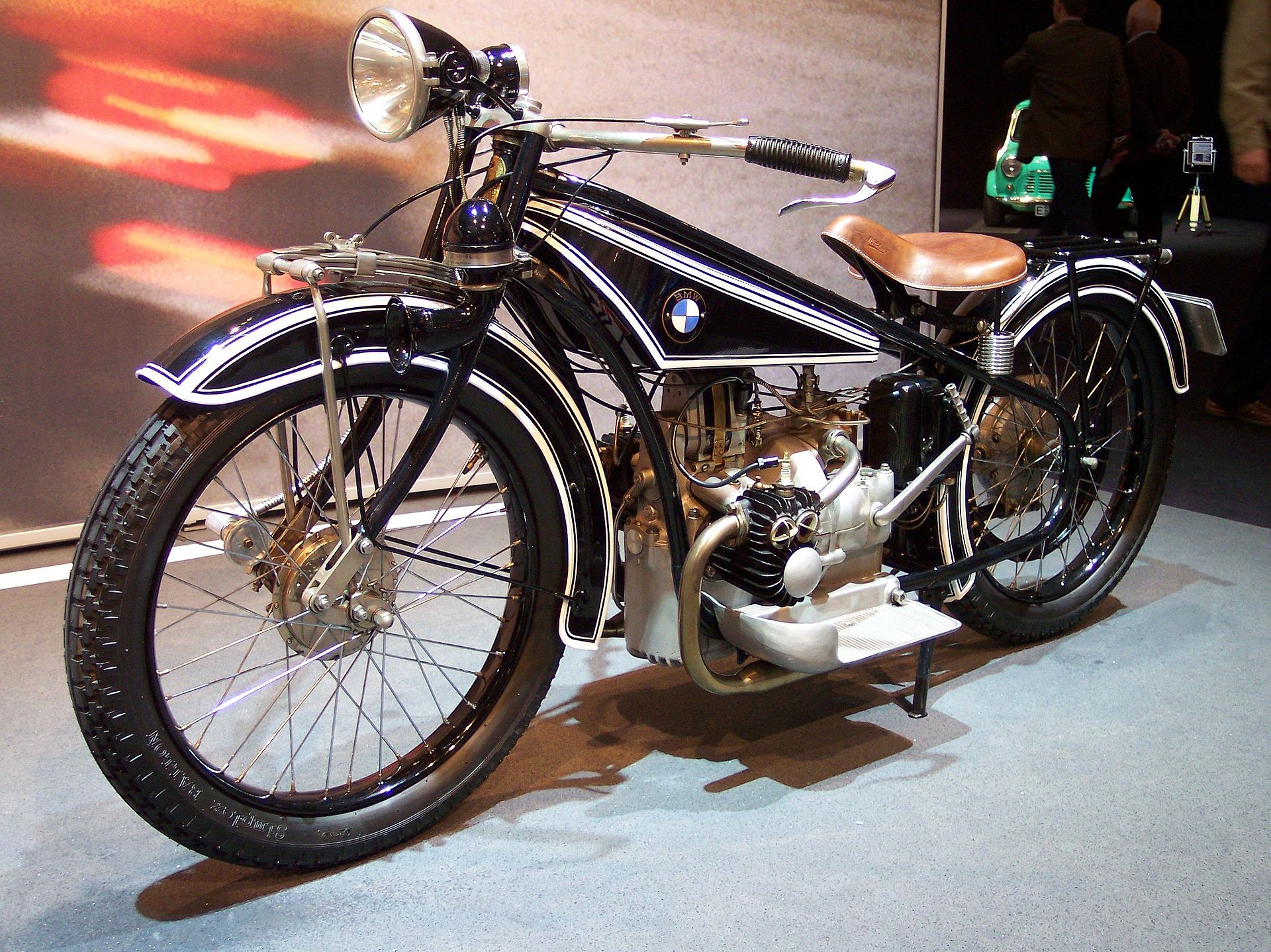 The engine was enclosed with the transmission inside and aluminium housing.
1926 – Ducati is born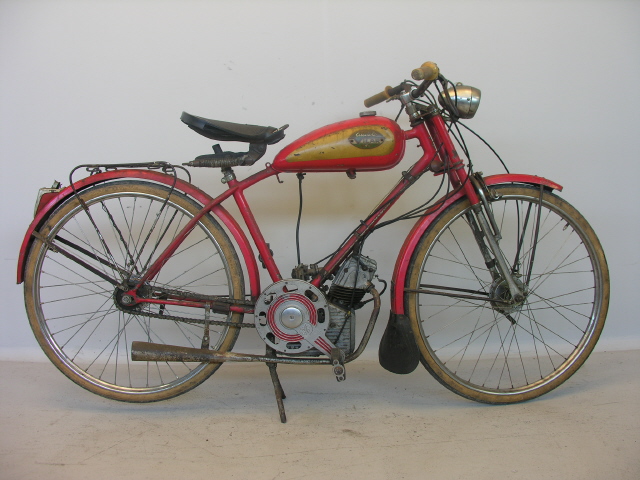 Starting as an Italian company for hoses, tubes and radio components, they created a motorcycle prototype in 1944 which was a hit with the public.
1928 – DKW became largest motorcycle maker in the world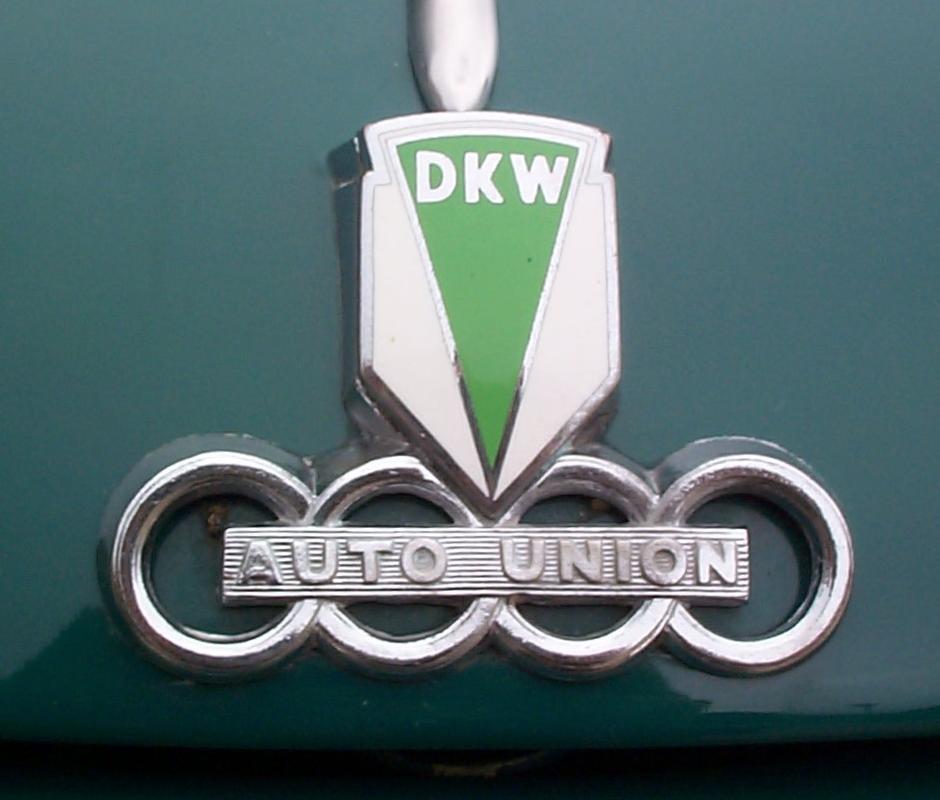 DKW Surpasses the American builders Indian and Harley.
1930 – Dot Robinson paves the way for female racing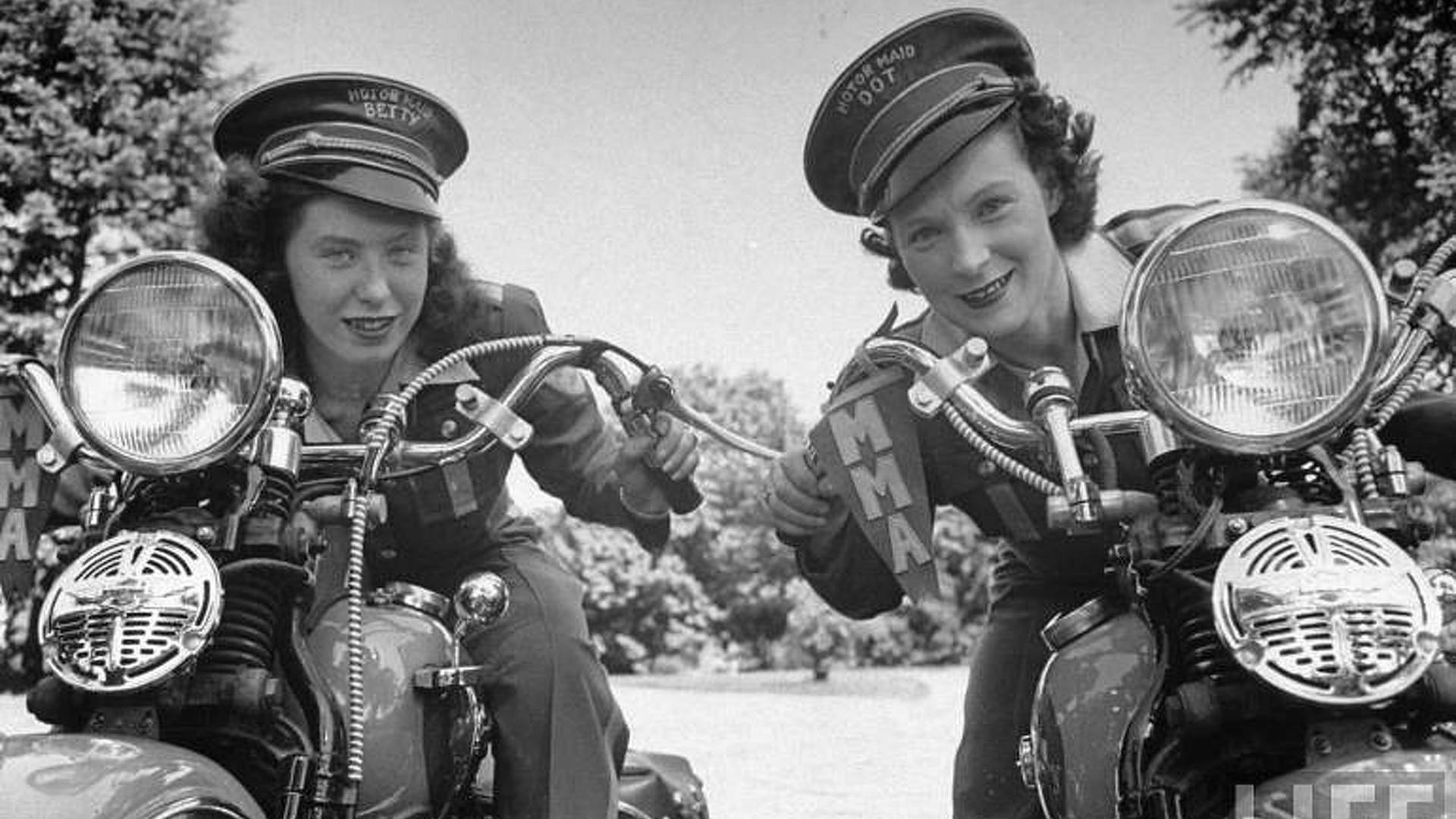 Dot logged her first 100 mile endurance race win despite organized attempted to keep her out of racing. 6 years later, she became the first woman to compete in Michigans 500-mile Jack Pine Motorcycle Run.
1930 – First african-american woman to ride solo across America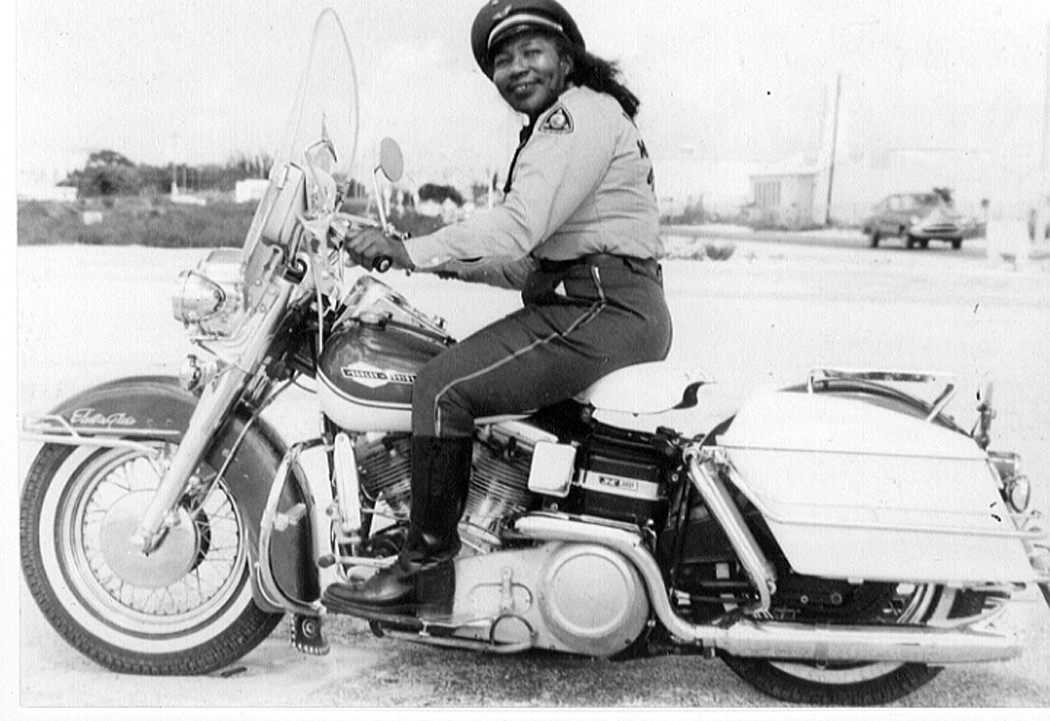 Bessie Stringfield had only been riding for 3 years before the 19 year old embarked on her 48 state journey. Despite rampant bigotry, racism and sexism Bessie soldiered on her epic journey and later served as a dispatch ride in WWII.
1934 – KTM is born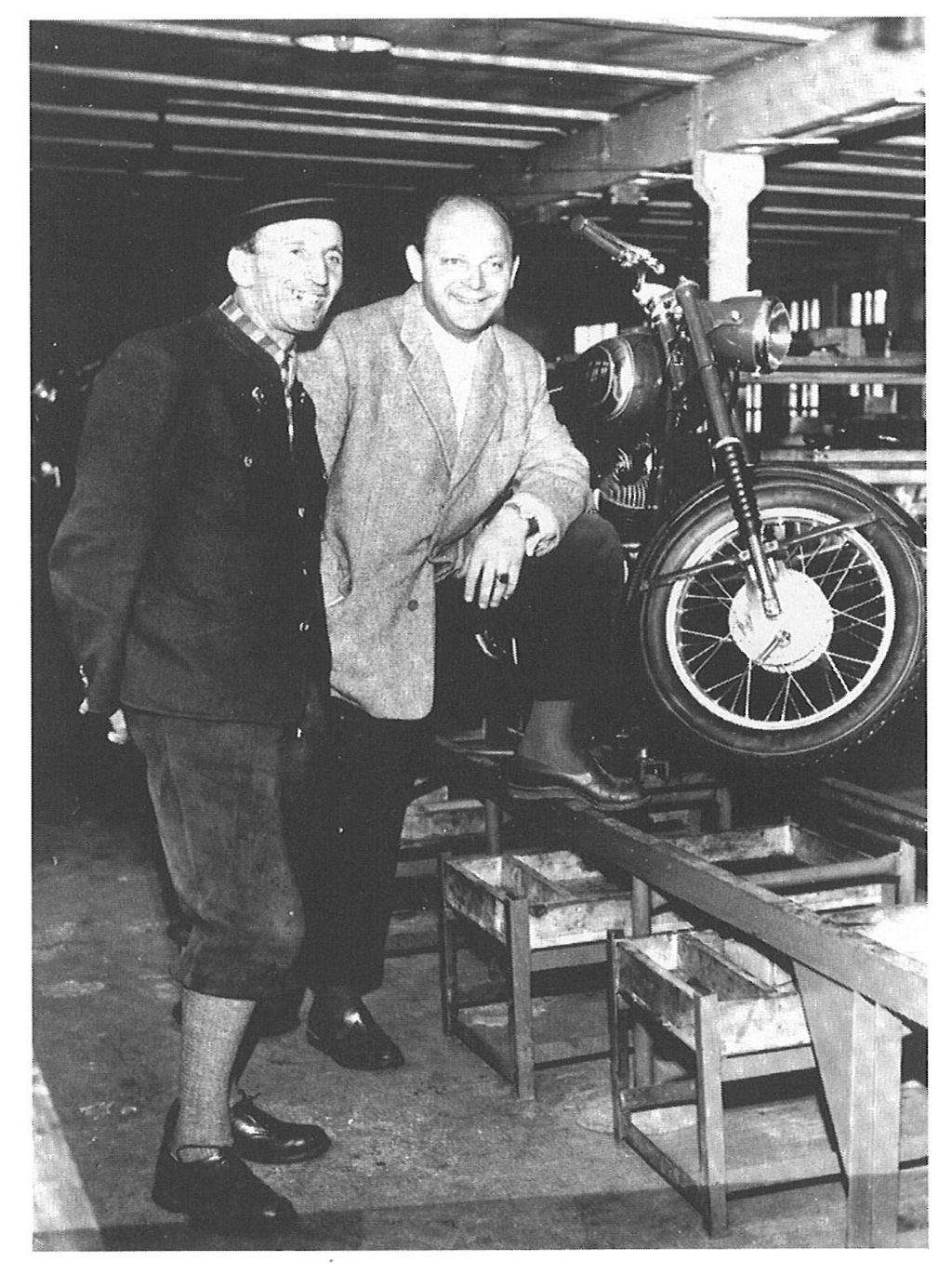 Known for its off-road bikes, KTM (Kronreif & Trunkenpolz Mattighofen) were one of the first companies to make a more versatile motorcycle, allowing it to go anywhere, but also built street bikes.
1935 – Hydraulic Suspension Forks invented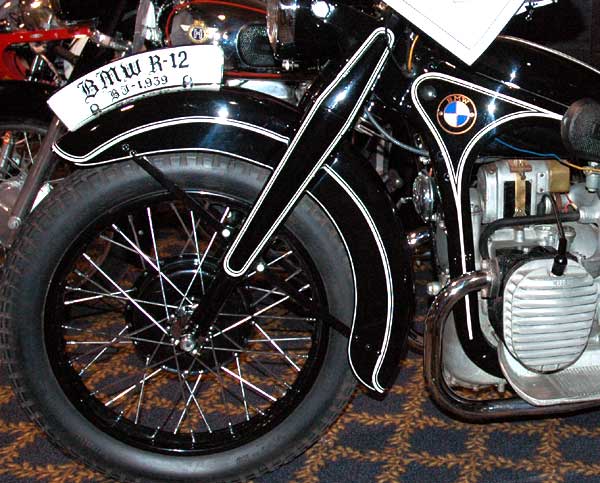 BMW started to mass produce motorcycles that were equipped with hydraulic telescopic forks.
1937 – First licenced female motorcyclist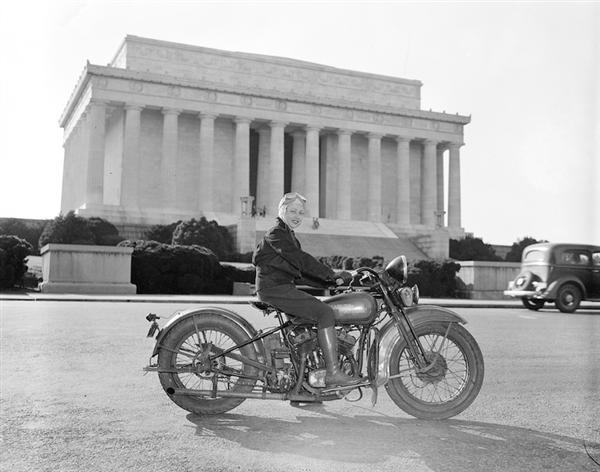 Sally Robinson became the first woman ever to receive her motorcycle licence.
1937 – Kawasaki is born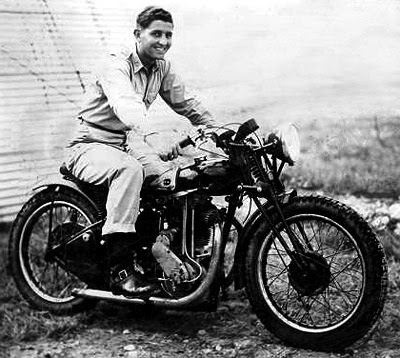 Originally known as Meguro Manufacturing Co, the oldest japanese motorcycle company. The Kawasaki Heavy Industries and Meguro Manufacturing Co merged in 1962 to form Kawasaki Motorcycle Co.
1941 – First Queen to ride a motorcycle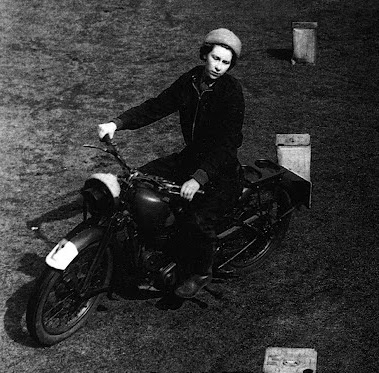 That's right good old" Liz" is pictured here riding her BSA C10 250cc through a training course of fuel cans, not only became the first female member of the Royal Family to be a full-time active member of the services but also the first Queen to operate a motorcycle.
1952 – Suzuki is born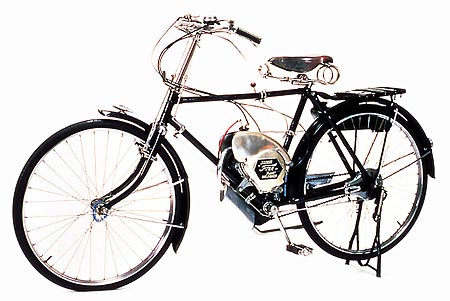 1955 – Yamaha is born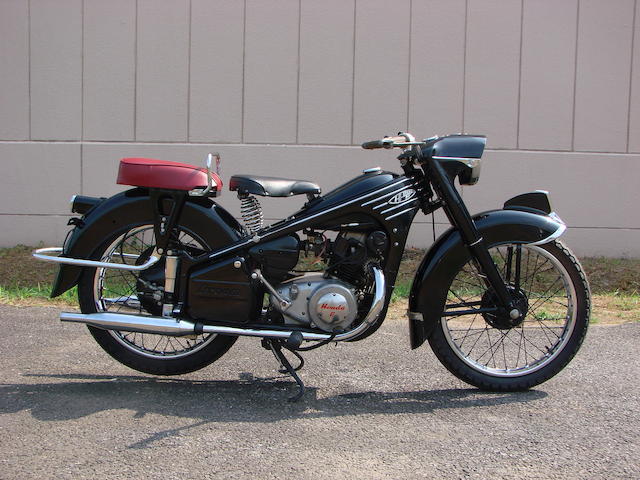 Helping to create larger advances in CC's of engines.
1955 – Honda is born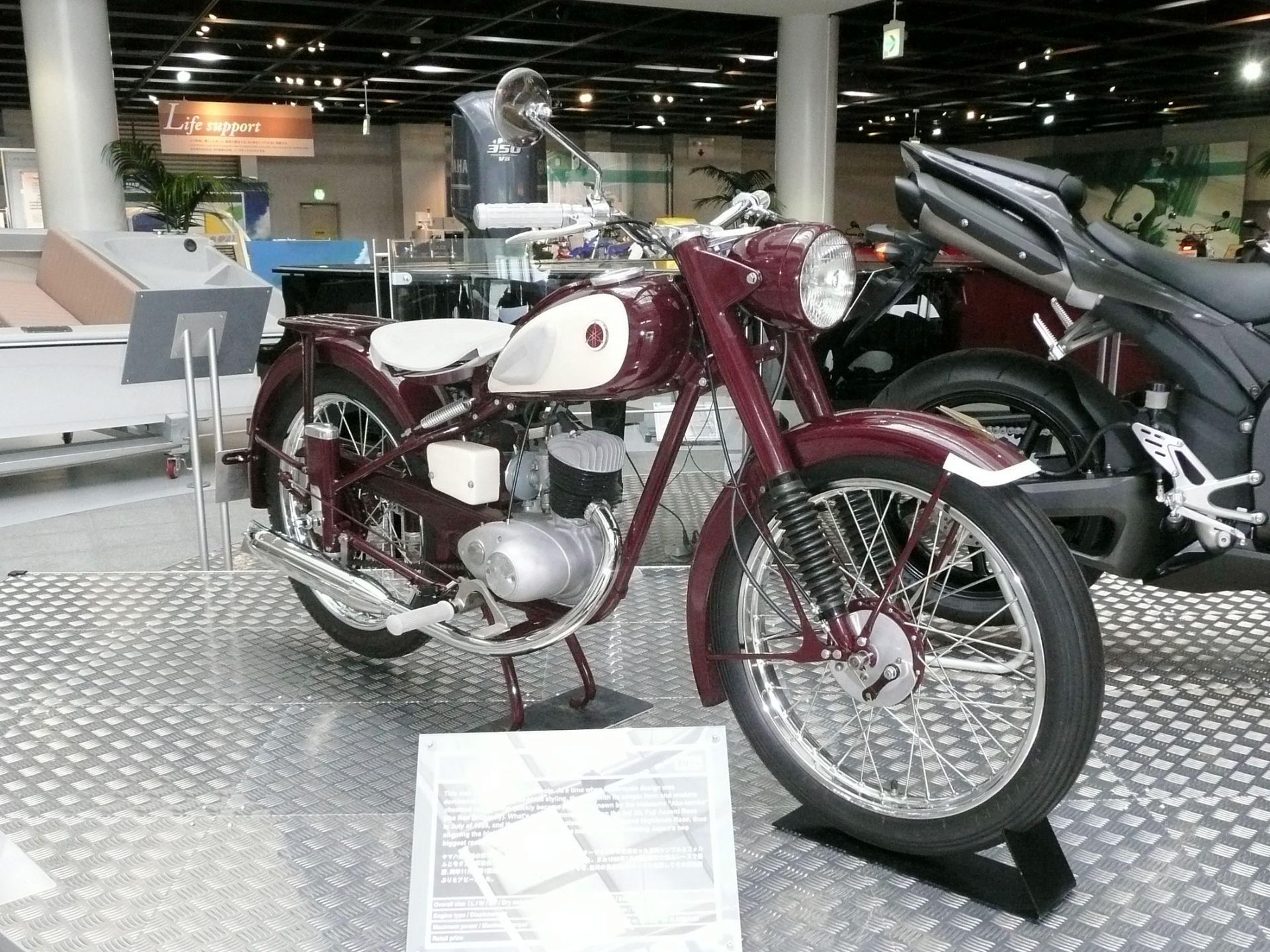 1962 – First female TT racer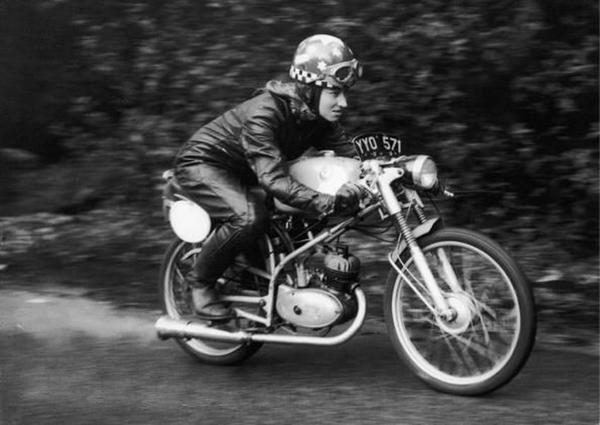 Beryll Swain became the first solo woman rider to compete in the Isle of Man TT when she took on the mountain course on a 50cc Itom Racer.
1968 – First superbike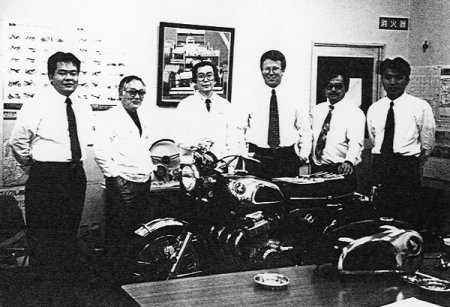 Honda makes waves again by creating a four-cylinder motorcycle which became the first "superbike"
1969 – Disc brakes are invented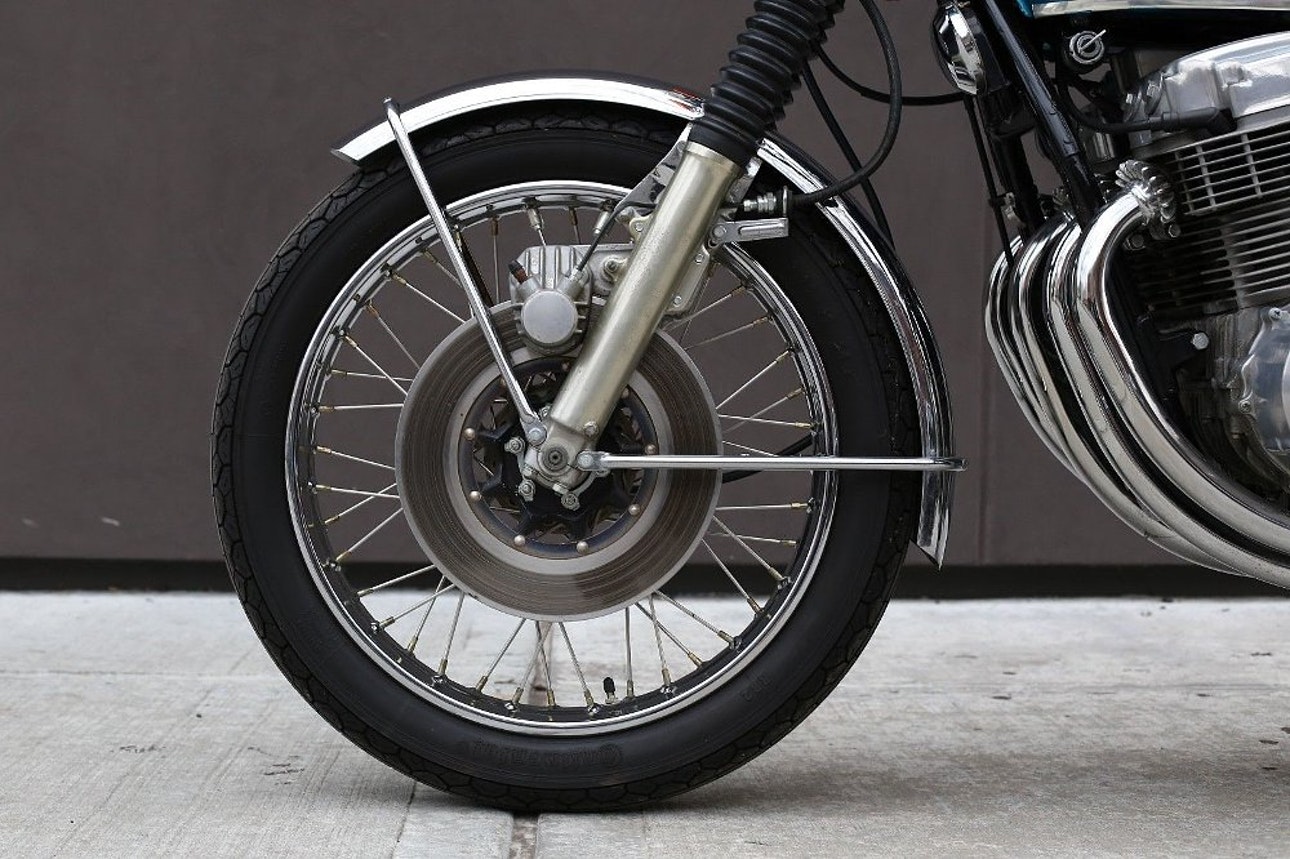 Honda introduced the first motorcycle, the CB750, with disc brakes.
1978 – Motorcycle gear shifter is invented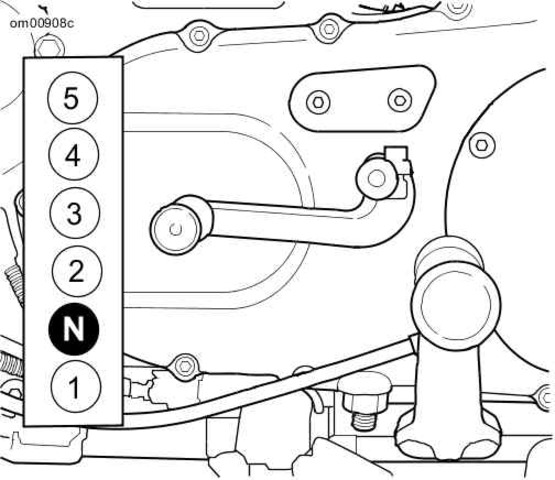 Charles W. Lindquist patented an adjustable stirrup type motorcycle gear shifter, allowing the motorcyclist to slip their shoe into shifting position either sidewardly or lengthwise.
1982 – First British woman to ride a motorcycle around the world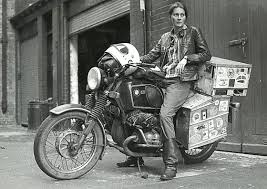 The then 23 year old Elspeth Beard set off from London on her BMW R60/6 on a journey that would last 35,000 miles and pave the future for female cross continent motorcycle travel.
1983 – Buell is born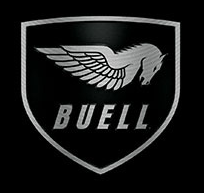 Ex Harley Davidson engineer Erik Buell founds Buell Motorcycles.
1988 – Anti-Lock brakes are invented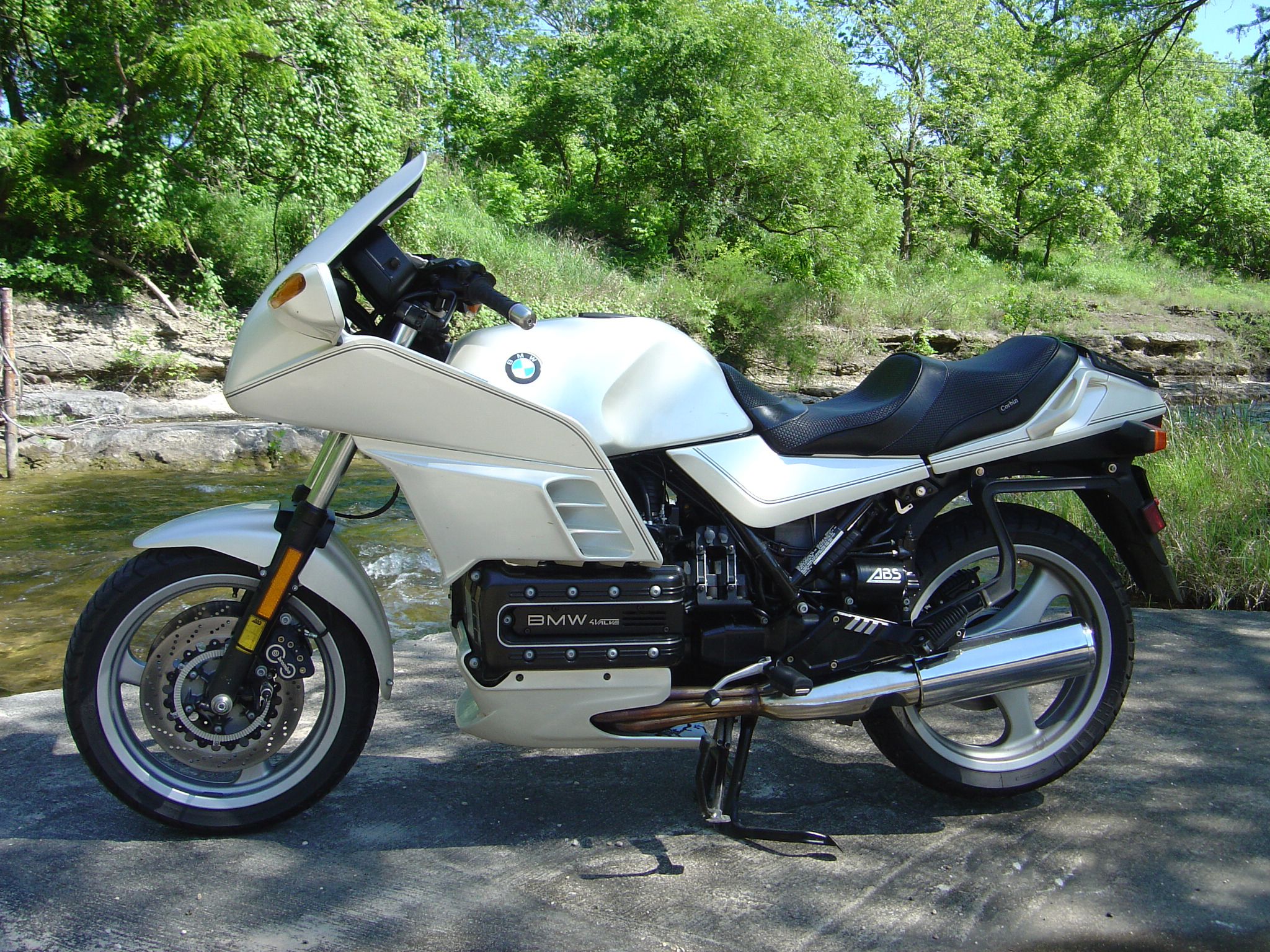 BMW introduces the first anti-lock brake system on their motorcycles.
2003 – Motorcycle airbags are invented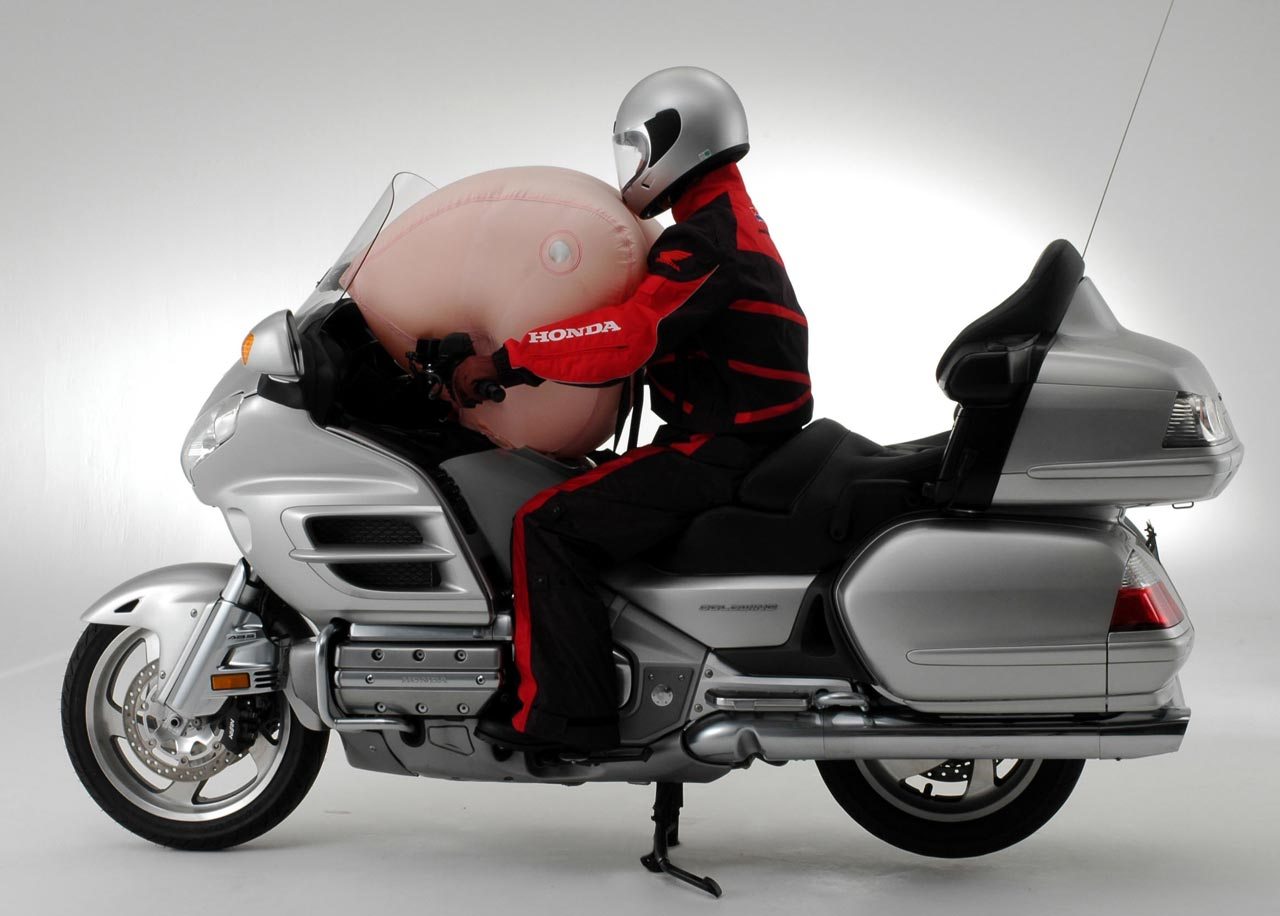 Yasuhito Miyata patented the first airbag designed for a motorcycle.
2003 – First British female to compete in the Dakar race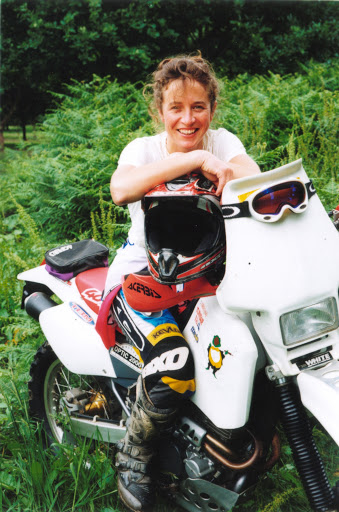 Patsy Quick (what an appropriate surname) became the first British female to compete in the Dakar Rally, and just three years later became the first to complete it.
2005 – First solo female on podium at Isle of Man TT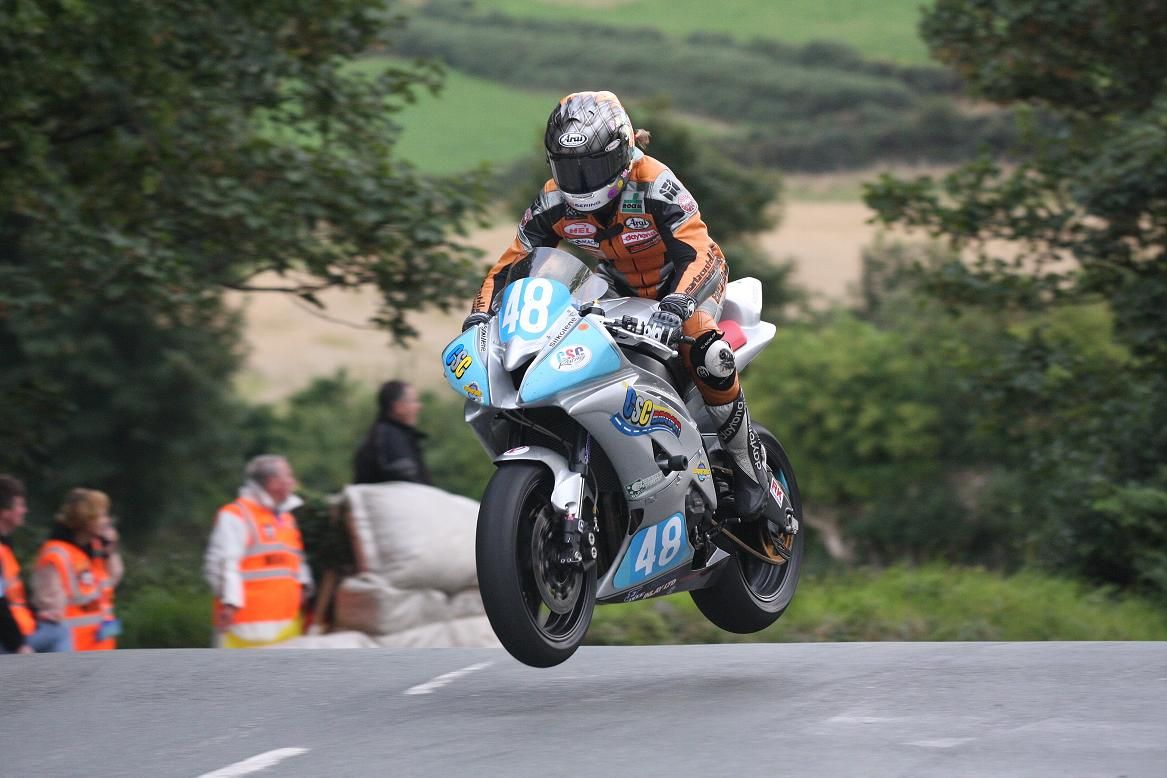 Maria Costello was the first female (solo racer) in the history of the Isle of Man motorcycle races to stand on the podium when she took third place at the 2009 TT. Maria has won a total of eight Manx Grand Prix Silver Replicas and one TT Bronze Replica. These
2009 – Worlds first Hybrid Motorcycle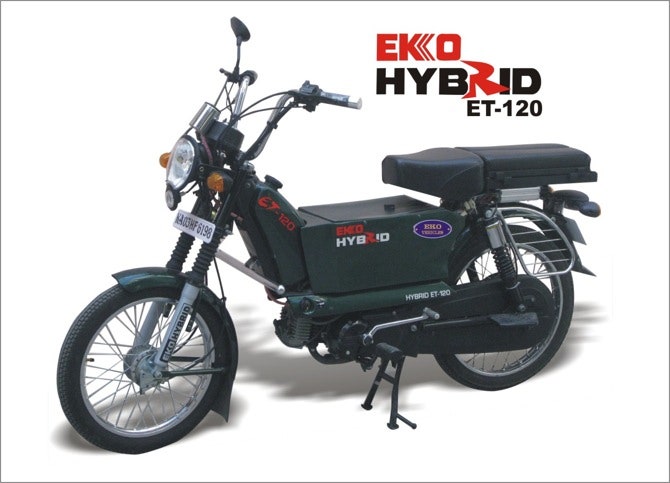 Eko Vehicle's ET-120 (A bangladesh company) retuned 280 miles per gallon with a top speed of 40 miles per hour and could be bought for $855.
2009 – Yamaha Hybrid is invented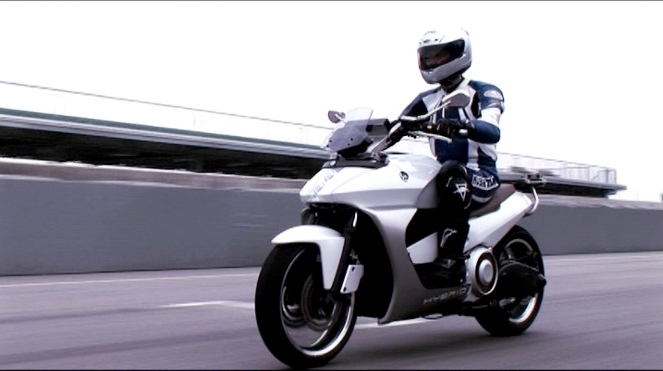 Yamaha patented its hybrid system for better fuel efficiency. The first of the hybrid builds.
2009 – Fastest female lap record at Isle of Man TT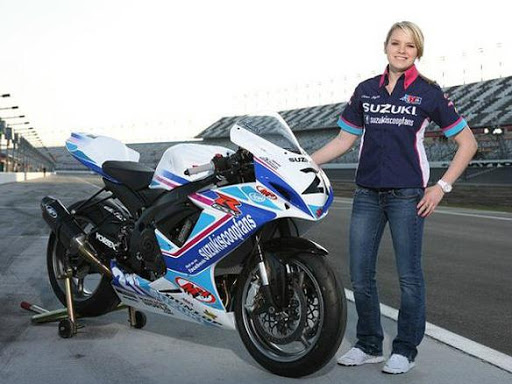 Jenny Tinmouth went on to re-break her own lap record during her second TT in 2010, with an average lap speed of 119.945 mph, gaining another Guinness World Record. Along with countless other firsts for women in motorcycling, Jenny also became the first female in history to compete in the
2010 – First female to win an AMA Pro Racing road race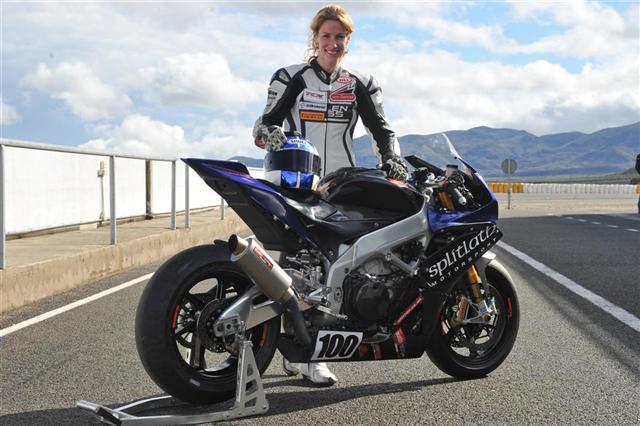 Elena Myers shows the world women can win. She was also the first to win a professional race of any kind at Daytona and was the youngest female ever to enter the AMA racing series.
2012 – Water cooled Electric Engines are invented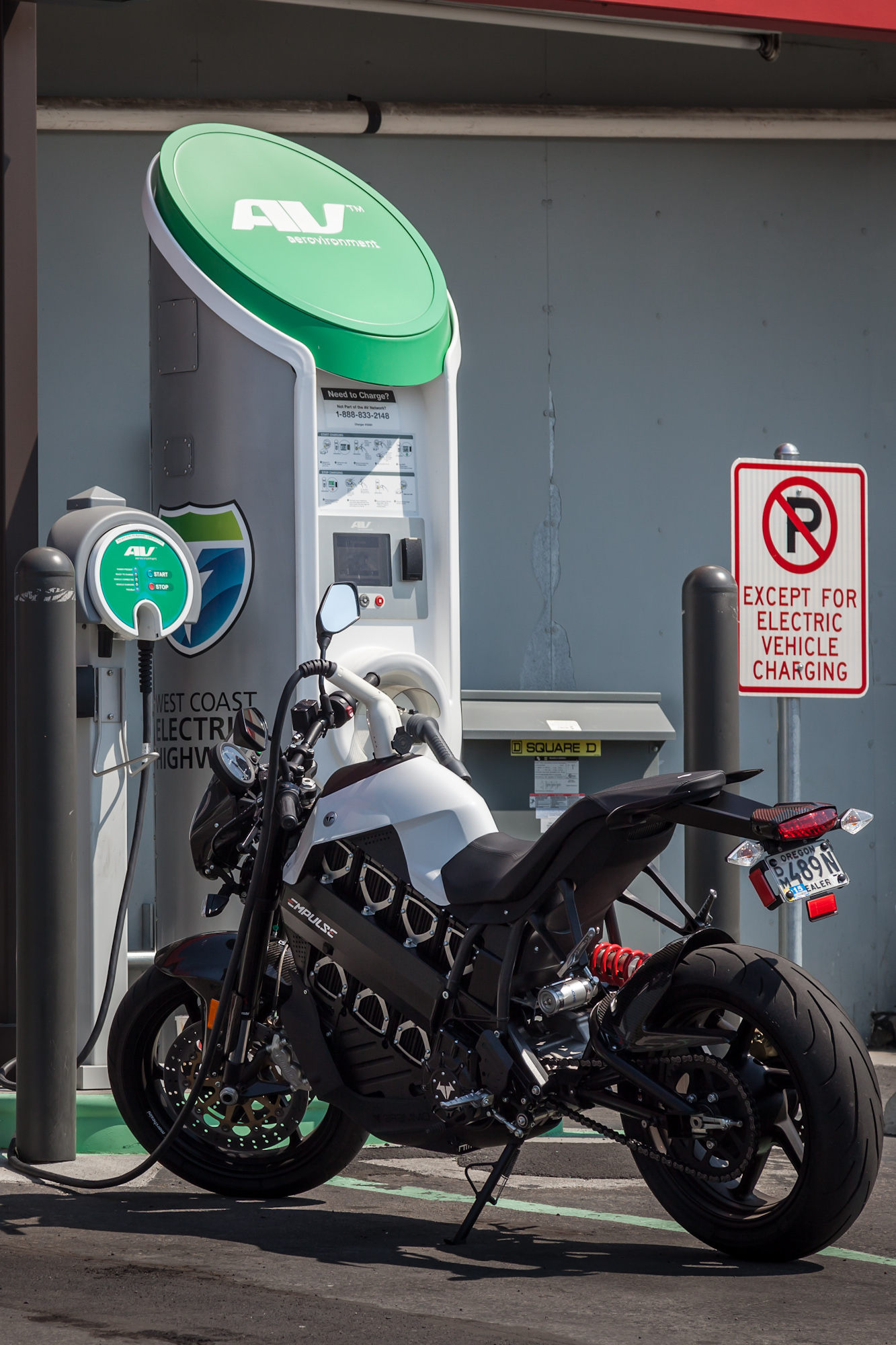 Brammo Empulse Motorcycle is equipped with a water cooled electric engine, never before done on electric bikes.
2012 – Frameless motorcycles invented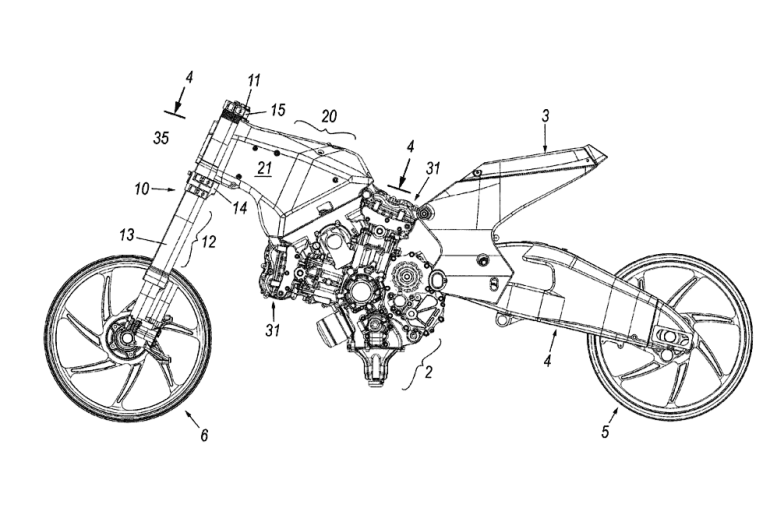 Ducati designed a motorcycle with no skeletal frame to severely cut down weight and increase motorcycle performance.
2017 – First woman to win a World Championship Motorcycle Road Race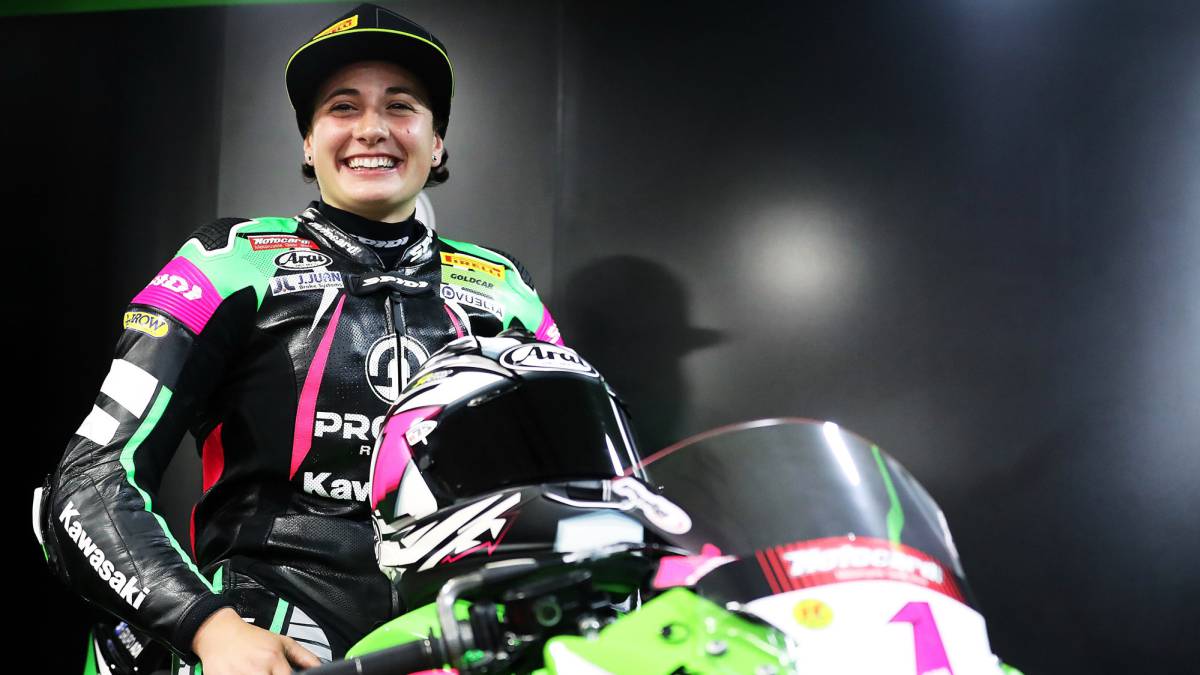 Ana Carrasco stormed victory against a field of 36 other riders, all of which were men.